For the next two month, a local coffee shop, Gretchen's Place, is showcasing my art on their walls.

Along with a selection of my Hope Prints, I am excited to show some of my other works. The 'Tree Series' includes much larger Monoprints on top of a black background, a technique I thoroughly enjoy doing. I ink up my hand-carved plate up in a painterly fashion, creating unique and varied images.
Here are a few previews of the selection:
As a child I lay under trees looking up into a blur above me. Once fitted with glasses, I was in awe. What was once indistinguishable fuzz now became a multitude of intricate leaves I never knew existed. To this day, this experience guides me. I seek out the intricate details, subtle textures, and slight shadows others overlook. In the Spring, I can still be found in the park, under the trees, Looking Up.                      16X20″ Monoprint.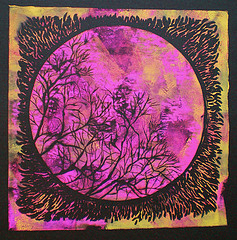 In the Light of the Moon
Even through the darkness of night, the moon becomes our light and our guide.  In the darkness things appear unsettling and unclear. Backlit by the moon, the tree reaches out of the darkness.   When shadows and fear overtake us, the light of the moon illuminates our path. 20×20″ Monoprint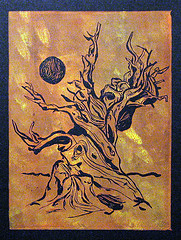 Bristlecone Pine Tree
The vivid colors from these hand carved and original monoprints resonate out of the black background, creating life from darkness.  The Bristlecone, known as the world's oldest living organism, is a symbol of resiliency under harsh circumstances.  While the majority of the tree consists of dead wood, even if one internal vein remains alive, the tree endures.         16×20″ Monoprint.
If you are in the area, stop by, grab a cup of coffee, and take a look at my work. Of course you can always order a Hope Print online, but if you are interested in my larger works, please Contact Me. I can send you photos of various pieces and discuss options.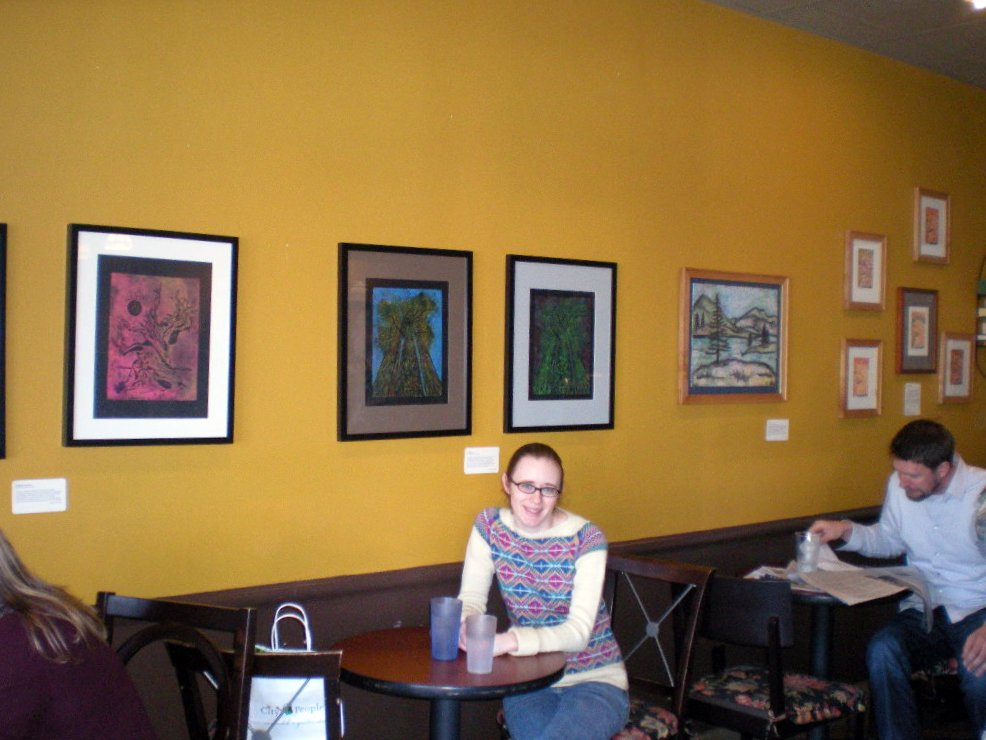 By the way… that sweater I am wearing… I knit it!!!
Gretchen's Address: 5423 Sandpoint Way NE, Seattle, WA 98105