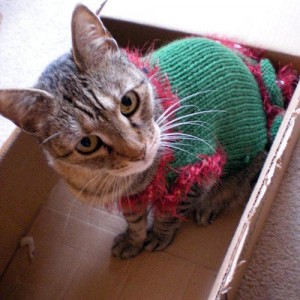 'Tis the Season for BOXES says my foster cat, Scout.
Domino is going through teenage angst so I have not seen him since his last update. Good time to introduce you to the resident cat. When Hope died I knew I needed something else in my apartment. I also knew I could not make a commitment at that time to another animal. I was not looking to go out and replace Hope, but I was not used to being completely alone.
I started brainstorming and realized I could provide a temporary home for a kitty in need, so I stopped by Animal Talk Rescue to fill out an application to foster. I was looking for an adult cat without acute medical conditions (after caring for Hope 24-7 I was exhausted and could not handle that at the time) needing a respite from the rescue.
While filling out the application with Missy, Rebecca the special needs coordinator overheard us. Foster? I NEED a foster! Apparently she had a healthy cat needing some extra TLC. Scout does not 'play nicely' with other cats, nor does she appreciate being caged. She's spent the past 6 months in a cage since abandoned during the night at the rescue's door. Missy was unaware of this and I had not explained my situation, but Rebecca was right. I was what Scout needed, and Scout was what I needed.
Scout tested positive for FIV, a virus similar to human HIV. There is a chance she was vaccinated against FIV. There is a better chance she does have a compromised immune system so it is best not to keep her in a shelter environment. FIV cats can live a long, healthy life with no signs of illness if in a low stress environment and prompt treatment of any secondary illness. Most people do not wish to adopt special needs cats, so they sit and wait for forever homes for a very long time. Many shelters consider them unadoptable.
A few days later Rebecca brought a protesting cat over to my house. We opened the door and she was out in a heartbeat–purring and rubbing on every singe item in the house. She circled me over and over again purring as loud as she could. She was SO GLAD to be out of a cage. I don't think she slept for the first three days because she was so ecstatic. She became my little shadow and companion. I freed her and she will be forever grateful.
Scout is a ham and a good addition to my life. She is social, playful, and opinionated. I love engaging with her in her antics. Her broken tail flips into a question mark as she dashes about the house. We did deal with some illness for a time, but switching foods solved that problem. I really doubt I could have handled my loss as well as I did without her supervising my showers, sitting on my paperwork, and 'helping' me with my projects.
Scout's opinion of Domino is not too great. She is the Queen of this castle and he is invading her space. She displays that very clearly. When he is is crated at night, she sits directly outside the crate door, glares and hisses at him. I have to move her to get him out in the morning or he will not leave the crate! During the day she gives him the evil eye regularly. This perplexes Domino because he is buddies with Brigadoon's office cat. She did start settling down by the end of the week.
When I talk about Scout people laugh and tell me she is a foster failure. I will never be giving her up. In my heart I have grown attached. She definitely owns me! My main concern is financial responsibility. I take animal care very seriously. If I adopt her I, I commit to her for life. I have a very limited income and am unsure if I can budget for both a cat and a dog. Once I get my new service dog I will reevaluate my situation and decide what I can commit to. Until then, Scout reigns supreme in this household.
There are many cats out there like Scout. Please consider an older or special needs cat. It is a great feeling to give a deserving animal a second chance at a good life.  If, like me, you are not in a position to make a lifetime commitment consider fostering. Animal Talk provides the food, litter, and medical care …you just provide the time and love.