Year round, many corporations encourage employees to give back to the community and the world. Many match employee donations, have drives, host events, and do what they can as a team to help those in need.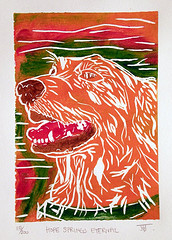 A number of corporations designated the entire month of October to raising awareness, encouraging volunteerism and charitable giving. These campaigns, headed by the United Way, foster an atmosphere of generosity, providing opportunities to give not just to the United Way, but smaller niche charities of choice.
One of the large participants of the October campaign is Microsoft Corporation. Due to their strong belief in giving back; not only financial donations are matched year round, but also in-kind, stock, and volunteer hours.
Karl's Kids Program, Inc. recently went through Microsoft Matching Gift Program's authorization process and is now listed in their nonprofit database, a convenient way for Microsoft employees to report donations for matching. As Karl's Kids manages my fundraiser, this includes contributions to my fundraiser. I ask anyone interested in donating to look into their own corporation's matching gift program, so you can watch your donations go even further!
A long term friend of mine, Mary Shevlin, graciously volunteered to assist with my fundraising by becoming my liaison for Microsoft, where she is employed. She currently has several copies of my 'Hope Print' in her office for in-person viewing and purchase. Any Microsoft employees with further interest or questions should feel free to contact Mary directly via email at marysh @microsoft.com.
I am very thankful to Mary for her dedication to me and my journey to find a new service dog. Knowing I am not alone in this process means the world to me. If anyone else feels compelled to be of assistance promoting and facilitating my campaign in your team or place of work, please contact me. Any assistance in spreading the word is much appreciated!
On the topic of fundraising I believe about $2000 of my $7500 goal has been raised! It might be more with donor matching! Thank you so much to all who have helped me make it so far!!! Your support and encouragement have been and continue to be huge blessing through this very hard year following the loss of my partner.
Along with the campaign, I am seeking other opportunities to promote my fundraiser. Some future ideas I have include:
'Meet the Puppy' house party (needing a host)
A yarn-inspired raffle for my Ravelry friends (needing donated raffle items)
More hand-crafted items in my shop for the holiday season.
More venues to display my work (please, please contact me if you spot an 'art wall' at a coffee shop).
Celebrating this month of giving I have added more prints to my Online Store for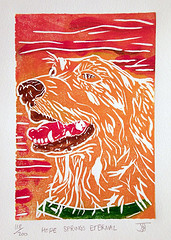 further selection. Please pass the word!
Also note: I've created both a Facebook Page and Twitter Feed dedicated to this journey. If you use these mediums I encourage you to join (like, follow, or whatever they are now calling it…) for convenient updates as I continue this journey.
Many thanks for making my dream a reality.
~Forever with Hope, Jessica