Sorry I have been neglecting blogging here. I had Domino for a whole week and life caught up! To make this simple I think I will do a day by day recap. I can expand on different aspects later in further posts. He is a cute little rapidly growing big bugger.
MY WEEK IN HIGHLIGHTS: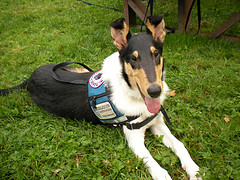 MONDAY: Cat meets puppy all over again. Much hissing. Domino just doesn't understand why this cat doesn't want to play! The office cat is his best friend! I went for a night walk with him and he did great–shadows, rain, cars, darkness, odd sounds… the world is totally different at night! He is also much improved in the walking department…oh, he is a Stair-Master!!! Such a good boy!
TUESDAY: I'm exhausted because the cat spent the entire night harassing the crated puppy. When she isn't harassing him she is harassing me for her due attention. Today he learned to ride at my feet in the car, walked in a new neighborhood and met my therapist. He mastered some Mega Scary Stairs. Domino is having a rotten time with teething and found the fringed wool rug fascinating in her office. Later I took him to the field behind my apartment and worked with him on a long line. Played fetch, recalls, downs, sits, stays, heeling, food zen… Much fun ending with one exhausted puppy! So exhausted he slept through all the hissing and objections to his presence.
WEDNESDAY: Big outing today. I had to go to a doctor's appointment so scheduled a volunteer, Judy, to go with us. She took Domino for a walk during my half hour appointment. After we went to Chocolati in Wallingford, got the requisite hot chocolate and then sat outside watching the world go by for a good hour. This is a very active area–people, cars, buses, bikes, doors opening and closing. It was fascinating to the 4 1/2 month old puppy, and he would settle down with me. I worked on attention, sit, down…mostly just acclimating to the atmosphere. He did bark at the toddler pushing the toy popcorn vacuum down the street. The mother was amazing, took the toy immediately, and asked if they can come say 'hi' and give him a treat. The toddler was thrilled with his 'kiss' and it was good for him to meet the youngster. He does have to work on sitting while being greeted. At least he isn't a jumper! Later I did some more work on the long line out back. It's a blast!
THURSDAY: Today we went back to the field and did some work/play. We also worked on attention. This morning he really wanted to play with the other dogs and has now started barking for attention and play. He's a Big Bad Collie Boy, you know. He's used to his regular play times with the other dogs at Brigadoon, and he is restless. He is also teething and just plain having a rotten time. I introduced him to teeth brushing and he finds that quite soothing. On our walk, I brought out the big guns to combat the barking: Natural Balance Treat Roll. I really focused on an attention, treating him every time he made eye contact either offering the behavior himself or when asked (I use the word 'look'…I should probably make sure it is the same Brigadoon uses). The goal is to catch any barking or distracted behavior before it happens and reward the positive behavior offered immediately. Those NB Bites were YUMMY–far better than barking!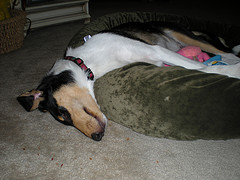 I think I will end this post here and continue the week later. That way it will actually get posted instead of lost in my overwhelming brain! I have more news on the fundraising front and a number of other articles started so I just need to get back to blogging.