The absolute best public service announcement I have ever seen. Ever.
It's from Norway, so you will have to read the captions but it is well worth the effort!
As a service dog partner I have experienced:
People petting my dog (of course).
People barking, meowing, making kissing noises/baby talk at my dog.
Crawling on the floor, attempting to romp with my dog.
People throwing food AT my dog (I have even had people try to give my dog chocolate which is dog poison).
People making an effort to step on my dog.
People saying "I know I shouldn't distract you, but I can't help it" as they pet and coo at my dog.
Now, here is the shocker… you better sit down…
ALL OF THESE THINGS HAVE BEEN DONE BY ADULTS!!!
Children are the easy ones. They are used to being educated and corrected on their behavior. They are fascinated to learn and once they are informed, very respectful. It is so cute to watch a young child educated their parents about service dogs and how they are working and shouldn't be distracted. Further, I must extend a BLESS YOU to all parents who educate and make sure their children do not interfere with a working dog. You are my most favorite strangers ever! We may never exchange a word, just possibly a 'Thank You' nod, but when you are at your wits end you can remember how appreciated you are by a disabled person with an assistance dog!
Adults, on the other hand, tend to take offense when asked not to distract my dog. They accuse me of abusing her because I do not allow her to interact with them. They do everything they can to catch her attention, sometimes claiming they are 'testing her. And frankly, it looks pretty idiotic when a grown man is on the ground crawling around and barking at a dog–especially one who is actively ignoring him!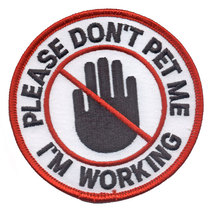 The facts: Assistance Dogs out with their handlers need to focus on their handler as well as their job at hand. Even when they appear to be resting they still need to remain focused and in work mode. When you intentionally distract an assistance dog from their duties, it can be dangerous for both the handler and the dog. I understand many people love dogs and are curious about what exactly Assistance Dogs do, but it is challenging enough for me, as an individual with a disability, to get out without the pressure of public education and running interference.
Assistance dogs get PLENTY of petting, love, affection, treats, and play time when they are 'off duty'. They are highly valued members of the family. They enjoy their jobs and their life. Please show respect for what they do by giving them space and not distracting them from their very important service.