In 2003 HOPE entered my life…
…in the form of a vivacious, loving, and faithful golden retriever.
Hope was trained to assist with my neurological disability. She became my partner, helper, best frien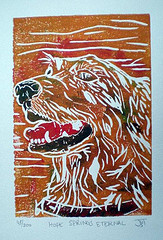 d, and constant companion. Working fluidly as a team; she led–I followed. I asked–she responded. She became an extension of me, an intricate part of my ability to function.
With Hope by my side doors began to open. I discovered my life passion–art. With her assistance I was able to attend classes, engage in the arts community, successfully show my work, and discover my true style. Hope of a bigger, better life grew in me.
In 2010, cancer took my Hope and left me searching for a new partner to help me on this journey. In remembrance of HOPE this linocut is hand-carved in her image and individually printed in my own unique style–no two prints are identical! 100% of the proceeds will go directly to my service dog fund so that…
HOPE can truly Spring Eternal!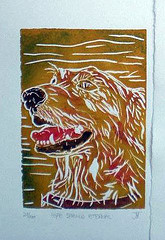 Jessica Thompson, 2011
200 limited edition prints
4.5×6″ on 8×11″ high quality printmaking paper
Suggested Donation: $25 (S&H $3)
(Anything over $25 is tax deductible)
Visit my Online Store to order your own unique print!