For those interested in purchasing their own custom print of "Hope Springs Eternal," my Online Store is open with a selection of prints for you to choose from!! To choose a custom print, simply go to the on-line store, click to "Hope Print Line" and select your favorite from the variety of hand printed, no-two-are-alike prints.
If you wish to give a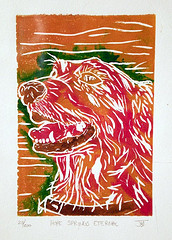 bove the suggested print amount, I have added a Donations selection so you can do so at the same time. Unfortunately, the software I am using for donations doesn't allow individuals to choose a variable donation amount, so currently donation values may be made in any quantity of $5, $25 or $100.  Thank you again for any amount you choose to donate, your support means more to me than you could ever imagine.  Again, a tax-deductible receipt will be given for any donation over the cost of the print.
Though the shopping-cart software is wonderful, there are still a few glitches to iron out. For one, I am not given an email address on order. Since I would like to keep people informed on the shipping process and timeline, please send me an email via my Contact page, noting your name and email address, and I will be sure to send you updates on your order.
Excitingly enough, I did get my first online purchase! It went smoothly and I noted purchaser's mailing address seemed to be about 4 blocks from my house. Being that her home was so close to mine, I decided to hand deliver her print, while testing out my phone GPS for the very first time. In getting a phone with GPS capabilities, my hope was that it would give me the freedom to walk alone safely, allowing me to gain some of the independence I had with Hope back again. My past "track record" for independent walks has not been very successful.
My Aide and I ventured out, following the directions indicated on the GPS. The route zigzaged back and forth, hitting every single major hill in the neighborhood. Then it stopped!  It had enough, and wasn't going to go anymore. We were definitely much farther than four blocks from my apartment, but seemingly nowhere near where near the final destination we were trying to reach!
My Aide then tried her Android's GPS and it led us further down the windy roads. Suddenly I actually recognized a picket fence and tree–one of the landmarks my walking partner Cherrie and I have been working on so I can get to her house! I knew where we were and my GPS didn't!  The GPS led us down the next road to Cherrie's house and we took the right at the horse sculptures (another landmark) and I spotted the red door on Cherrie's house! Of course we weren't in search of Cherrie's house, and the GPS led us on…right into a dead end. Apparently even the newest GPS on the market can't navigate in my neighborhood.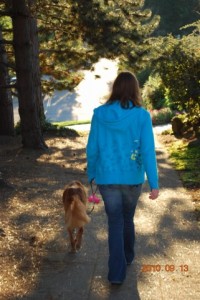 Because of my landmark practice, the trip was not completely futile. I said 'hi' to Adda my canine walking buddy and left the print with her so her mother could deliver it to the un-plotted house. Adda was terribly disappointed to learn she was being left in her kennel and not going on a fun outing with me.
Amazingly, due to my landmarks I was able to find my way back home without my broken GPS. While it is great that I was able to recognize landmarks, which is still an incredibly difficult thing for me due to my sensory processing difficulties, I was disappointed GPS was not a bigger help on this trip.
In the past, with Hope as my guide, I could wander to my hearts content and she could always somehow find our way back home. She was much better than a GPS. With this beautiful sunshine I've been wanting to go out for long, glorious walks, but find myself simply staring out my window missing her…