In 2003 HOPE entered my life…
…in the form of a vivacious, loving, and faithful golden retriever.
Hope was trained to assist with my neurological disability. She became my partner, helper, best frien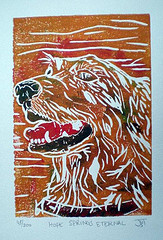 d, and constant companion. Working fluidly as a team; she led–I followed. I asked–she responded. She became an extension of me, an intricate part of my ability to function.
With Hope by my side doors began to open. I discovered my life passion–art. With her assistance I was able to attend classes, engage in the arts community, successfully show my work, and discover my true style. Hope of a bigger, better life grew in me.
In 2010, cancer took my Hope and left me searching for a new partner to help me on this journey. In remembrance of HOPE this linocut is hand-carved in her image and individually printed in my own unique style–no two prints are identical! 100% of the proceeds will go directly to my service dog fund so that…
HOPE can truly Spring Eternal!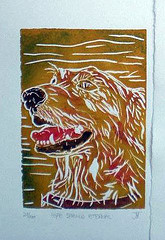 Jessica Thompson, 2011
200 limited edition prints
4.5×6″ on 8×11″ high quality printmaking paper
Suggested Donation: $25 (S&H $3)
(Anything over $25 is tax deductible)
Visit my Online Store to order your own unique print!
Late in coming, but Domino passed his ONE YEAR mark.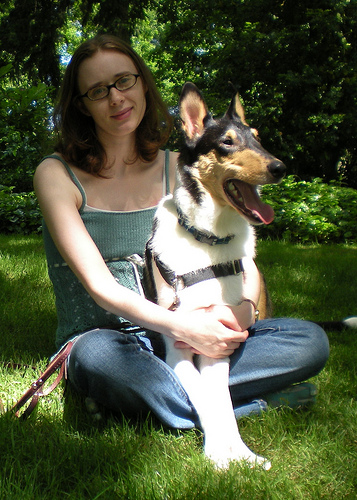 Domino is nearly 14 months old and currently with me full time. Denise comes out to work with the two of us, and will take him back for more training when he matures a bit. Right now he's just getting used to me, the city, and struggling to locate his adolescent peanut brain cells… (adolescence is hard for any species…)
He's made many strides in the last three months. It hasn't been easy, but we've been working together. It's been good for me. I have a focus and he is a joy to have!
Isn't he handsome?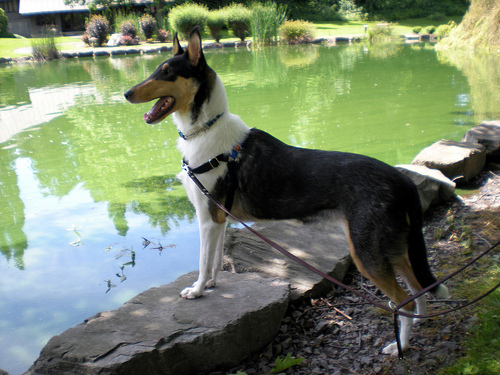 More to come, but I did want to get at least something posted… I'm not so great with this blogging, am I?
Domino Visited me for Two Weeks!!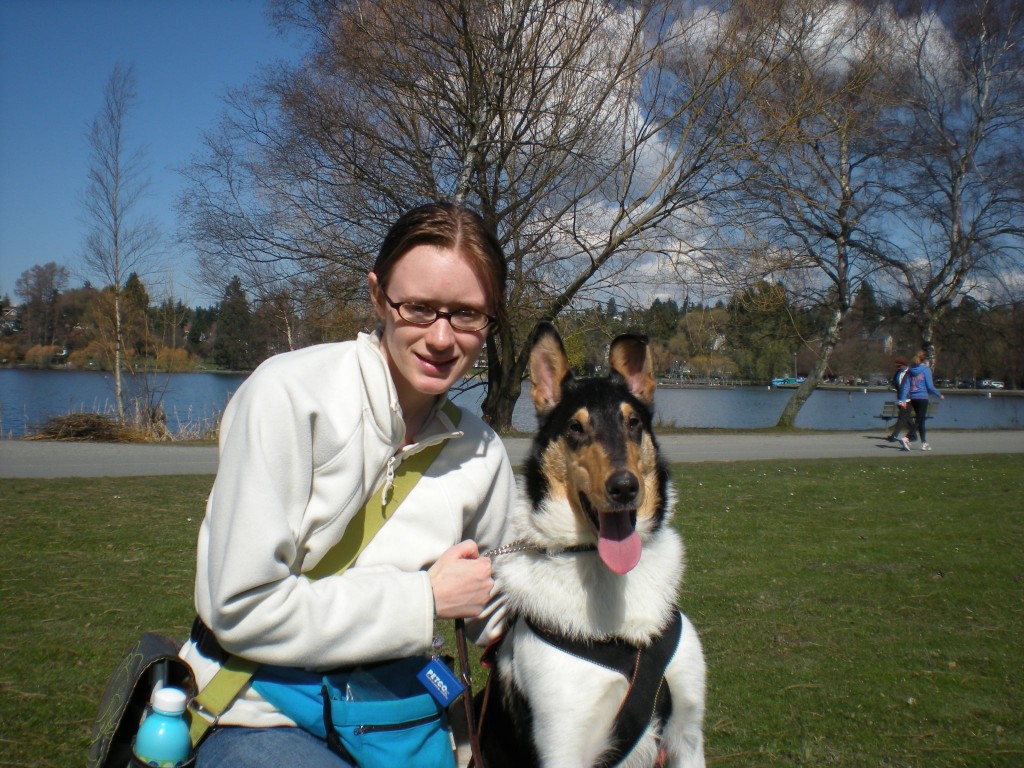 He is HUGE… and still growing…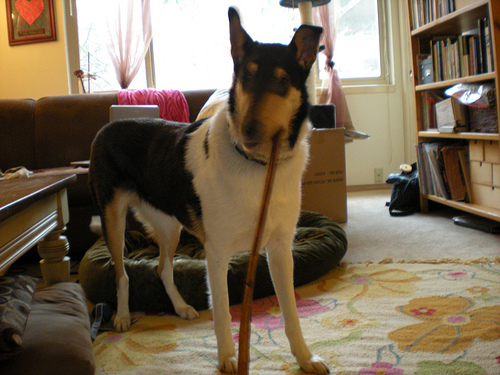 He has A LOT to learn… but He WANTS to learn.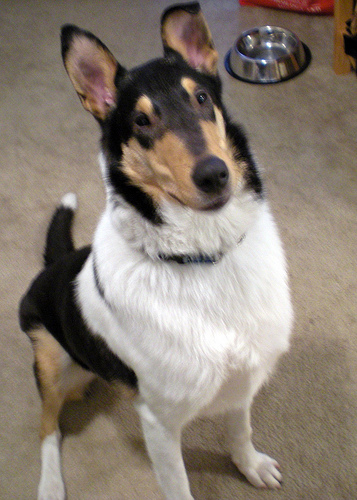 The city is a BIG, NOISY place.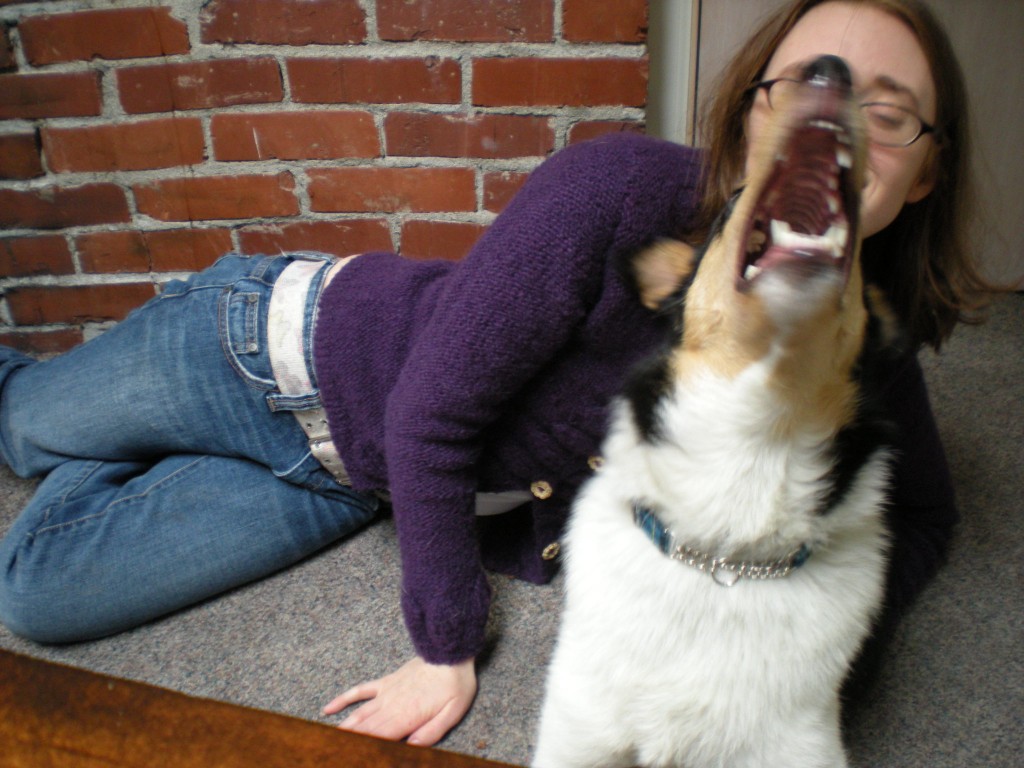 We learned, worked and played…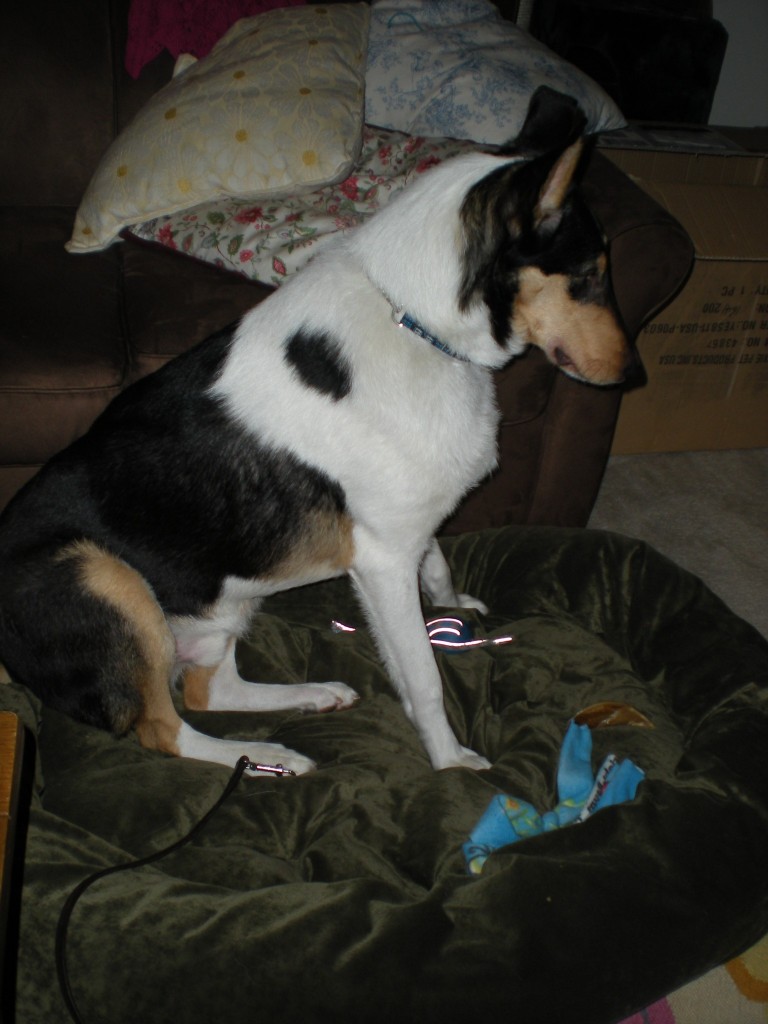 And passed out.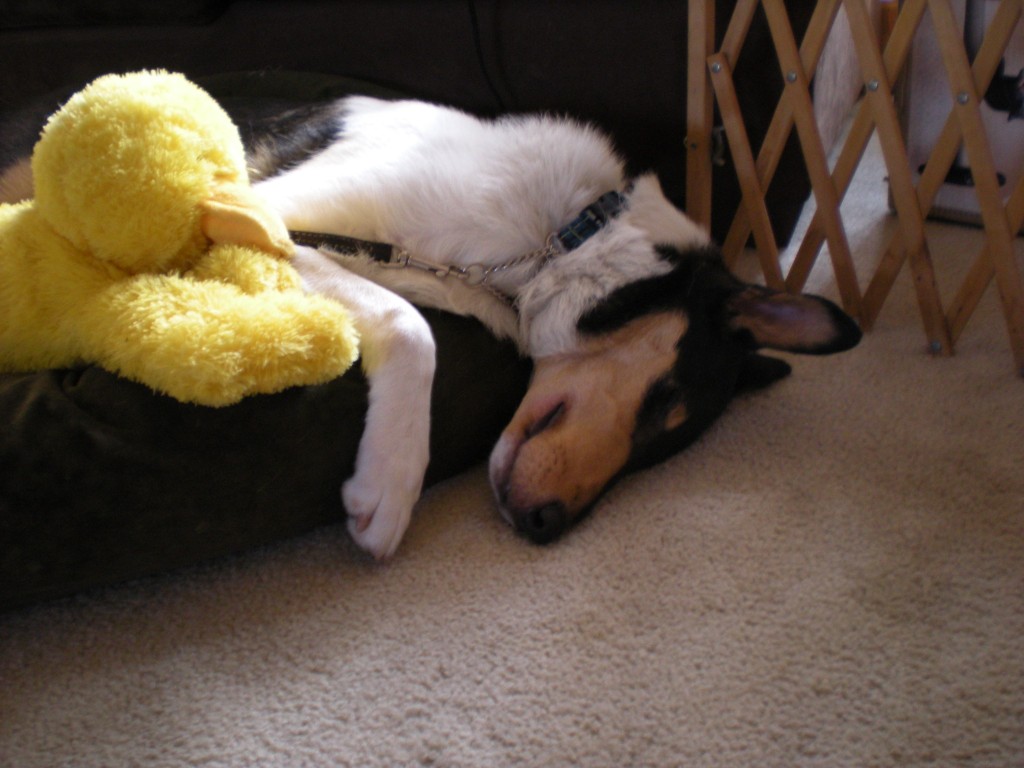 We are going to try having him with me half-time: Two weeks on, two weeks off. Hopefully we will work up to longer. Even though he is an adolescent, it is obvious how much care has been put into him. Now he has to learn about city life.
I was most pleased with his response to a seizure I had out in public. He didn't panic, bark, or take advantage of the situation. He wasn't distracted by all the going-ons that usually distract him. He stayed with me as we slowly walked back even though there was no way I could manage him if he decided to start pulling adolescent stunts….
And once we were back home he was as pleased as punch to curl up in bed with me, sandwiching me between himself and the wall.
The CAT managed… she wasn't thrilled, but by the end of his visit SHE was guarding the his water bowl and parading back and forth 3 inches in front of him during his down stay. BRAT!
For the next two month, a local coffee shop, Gretchen's Place, is showcasing my art on their walls.

Along with a selection of my Hope Prints, I am excited to show some of my other works. The 'Tree Series' includes much larger Monoprints on top of a black background, a technique I thoroughly enjoy doing. I ink up my hand-carved plate up in a painterly fashion, creating unique and varied images.
Here are a few previews of the selection:
As a child I lay under trees looking up into a blur above me. Once fitted with glasses, I was in awe. What was once indistinguishable fuzz now became a multitude of intricate leaves I never knew existed. To this day, this experience guides me. I seek out the intricate details, subtle textures, and slight shadows others overlook. In the Spring, I can still be found in the park, under the trees, Looking Up.                      16X20″ Monoprint.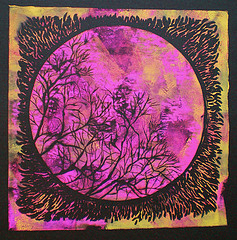 In the Light of the Moon
Even through the darkness of night, the moon becomes our light and our guide.  In the darkness things appear unsettling and unclear. Backlit by the moon, the tree reaches out of the darkness.   When shadows and fear overtake us, the light of the moon illuminates our path. 20×20″ Monoprint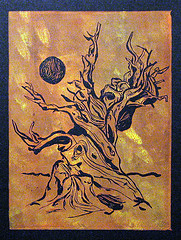 Bristlecone Pine Tree
The vivid colors from these hand carved and original monoprints resonate out of the black background, creating life from darkness.  The Bristlecone, known as the world's oldest living organism, is a symbol of resiliency under harsh circumstances.  While the majority of the tree consists of dead wood, even if one internal vein remains alive, the tree endures.         16×20″ Monoprint.
If you are in the area, stop by, grab a cup of coffee, and take a look at my work. Of course you can always order a Hope Print online, but if you are interested in my larger works, please Contact Me. I can send you photos of various pieces and discuss options.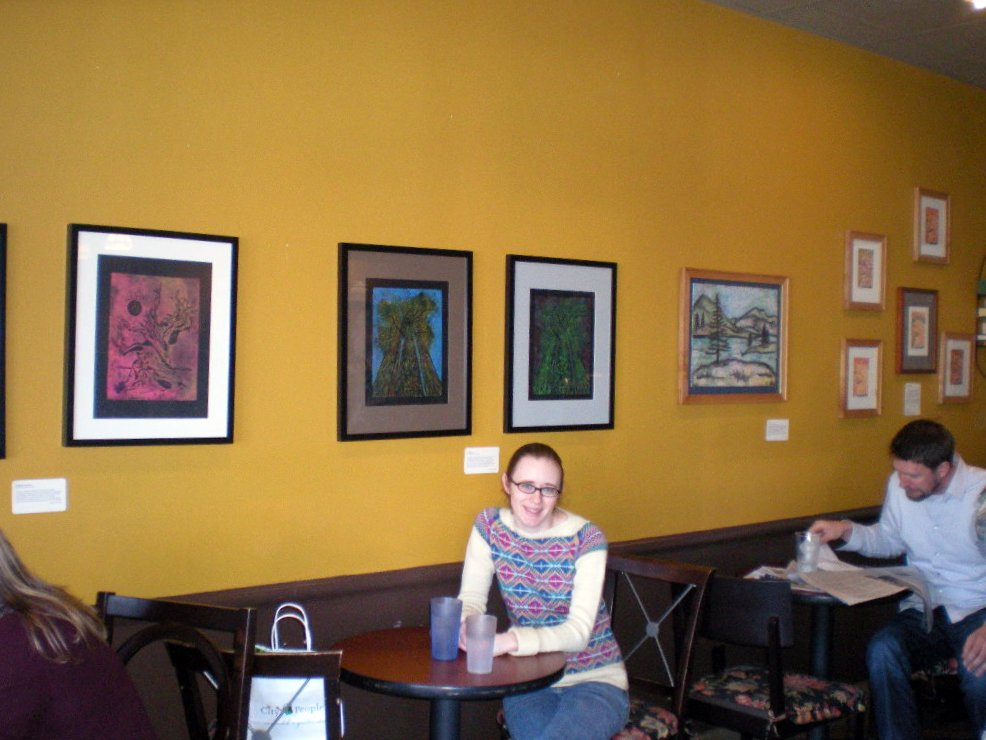 By the way… that sweater I am wearing… I knit it!!!
Gretchen's Address: 5423 Sandpoint Way NE, Seattle, WA 98105
I spy with my little eyes, something that is BIG…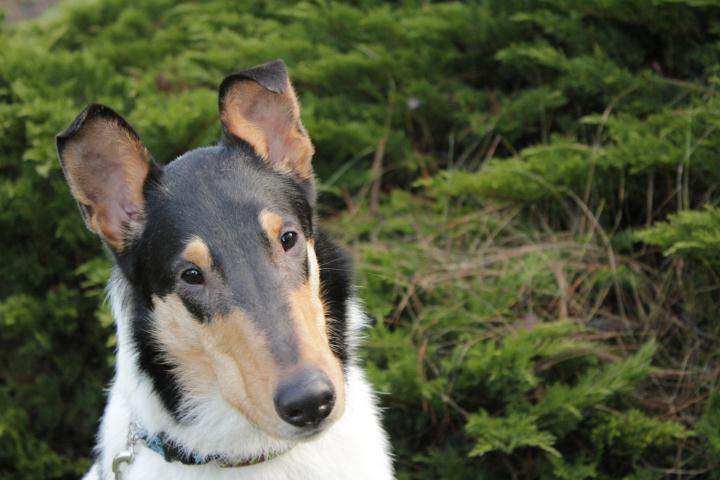 A new Domino photo on Brigadoon's Website!!
It's been FOREVER since I have seen this pup. Apparently he is HUGE now!!! He is also full-blown teen!!! Denise is sure he will grow out of it, but I am crossing my fingers and hoping for a visit in March.
I owe everyone an update. I have a new solo exhibit up and No Boundaries, where I have two pieces exhibited, has moved to another location. I also have more prints to post, financial news, and other things to sell!. Too much is happening!!! All good things!!
It just made my Valentine's Day to see a new photo!
Happy Valentine's Day Everyone!!!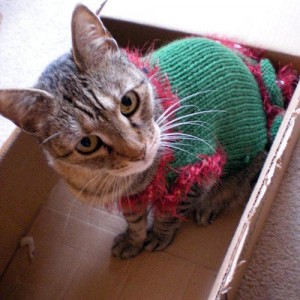 'Tis the Season for BOXES says my foster cat, Scout.
Domino is going through teenage angst so I have not seen him since his last update. Good time to introduce you to the resident cat. When Hope died I knew I needed something else in my apartment. I also knew I could not make a commitment at that time to another animal. I was not looking to go out and replace Hope, but I was not used to being completely alone.
I started brainstorming and realized I could provide a temporary home for a kitty in need, so I stopped by Animal Talk Rescue to fill out an application to foster. I was looking for an adult cat without acute medical conditions (after caring for Hope 24-7 I was exhausted and could not handle that at the time) needing a respite from the rescue.
While filling out the application with Missy, Rebecca the special needs coordinator overheard us. Foster? I NEED a foster! Apparently she had a healthy cat needing some extra TLC. Scout does not 'play nicely' with other cats, nor does she appreciate being caged. She's spent the past 6 months in a cage since abandoned during the night at the rescue's door. Missy was unaware of this and I had not explained my situation, but Rebecca was right. I was what Scout needed, and Scout was what I needed.
Scout tested positive for FIV, a virus similar to human HIV. There is a chance she was vaccinated against FIV. There is a better chance she does have a compromised immune system so it is best not to keep her in a shelter environment. FIV cats can live a long, healthy life with no signs of illness if in a low stress environment and prompt treatment of any secondary illness. Most people do not wish to adopt special needs cats, so they sit and wait for forever homes for a very long time. Many shelters consider them unadoptable.
A few days later Rebecca brought a protesting cat over to my house. We opened the door and she was out in a heartbeat–purring and rubbing on every singe item in the house. She circled me over and over again purring as loud as she could. She was SO GLAD to be out of a cage. I don't think she slept for the first three days because she was so ecstatic. She became my little shadow and companion. I freed her and she will be forever grateful.
Scout is a ham and a good addition to my life. She is social, playful, and opinionated. I love engaging with her in her antics. Her broken tail flips into a question mark as she dashes about the house. We did deal with some illness for a time, but switching foods solved that problem. I really doubt I could have handled my loss as well as I did without her supervising my showers, sitting on my paperwork, and 'helping' me with my projects.
Scout's opinion of Domino is not too great. She is the Queen of this castle and he is invading her space. She displays that very clearly. When he is is crated at night, she sits directly outside the crate door, glares and hisses at him. I have to move her to get him out in the morning or he will not leave the crate! During the day she gives him the evil eye regularly. This perplexes Domino because he is buddies with Brigadoon's office cat. She did start settling down by the end of the week.
When I talk about Scout people laugh and tell me she is a foster failure. I will never be giving her up. In my heart I have grown attached. She definitely owns me! My main concern is financial responsibility. I take animal care very seriously. If I adopt her I, I commit to her for life. I have a very limited income and am unsure if I can budget for both a cat and a dog. Once I get my new service dog I will reevaluate my situation and decide what I can commit to. Until then, Scout reigns supreme in this household.
There are many cats out there like Scout. Please consider an older or special needs cat. It is a great feeling to give a deserving animal a second chance at a good life.  If, like me, you are not in a position to make a lifetime commitment consider fostering. Animal Talk provides the food, litter, and medical care …you just provide the time and love.
Over the last year I've been focused on just getting by after the loss of Hope. Along with my grief and limited ability to get out in the world, the arts program I utilized for my professional development closed its doors. For many months I was in an artistic funk, avoiding even the simple act of free drawing. Without this printmaking project to memorialize my Hope and fund-raise for my future I am unsure if I would have had the gumption to dive back into the creative process.
Up until now I have been singularly focused on creating my Hope prints for this fundraiser. Pulling 200 prints can get tedious. Before this my editions have been 10 max. I'm taking a break for several reasons, and during this time I've found myself going through my old art pieces. Many hold memories. Looking at them now I have a different perspective–removed from the anguished hours staring at and working on the piece. I noted my strengths, challenges and actually enjoyed viewing my works.
I just got the Call for Art for the 20th Anniversary No Boundaries show, a year long traveling exhibit featuring artists with disabilities. The theme this year: Memories&Visions. How perfect for where I am in my life! I submit 3 images and write a statement about my process and how they fit the theme. Along with a Hope Springs Eternal print, I am submitting two more I thought I'd share with you here:
__________________________________
 Scar Tissue: The process of life leaves us all with wounds be it physical or emotional. These wounds become scars -marks upon our body and soul- carried on us for the rest of our life. We can see these scars as imperfections… flaws. Or they can be seen as signs of healing… the strength within us to continue on. This image of a heart cut into pieces and then stitched back together asks us "Isn't scar tissue stronger than ordinary skin?"  Our scars are a mark of our strength and with acceptance, become a symbol of our unique beauty.
_________________________________
Journey: In connecting with nature I find the opportunity to reflect—where I have been, who I am now, where I am going. It is not about the destination, but the journey –the cycle of life nature knows well. To emulate this process of reflection, this landscape is drawn and water-colored over a map as a backdrop. The map of time led us to our current destination, but it is our choice what road to travel on the next leg of our journey.
I'm interested to discover which of these three the jury chooses for this exhibit. Of course there is no guarantee any will be picked, but I have been quite successful in this show in the past, even selected as the cover artist in the past so I think I will do ok.
Regardless, this is a big step back into the process. I also have two coffee shop exhibits lined up for the future, so things are moving in the right direction!
Quarterly, bloggers are invited to participate in the Assistance Dog Blog Carnival. This time the Carnival is being hosted by Cyndy at Gentle Wit with the chosen topic Achievement.
It is now the last day for submissions and I have been sitting on this topic for a month. To be honest, I am having a pretty rotten time. I'm sick. I'm depressed. I'm fed up. I have no desire to think about Achievement. But I will try.
It's been a bit over a year since my dear, faithful Hope died of cancer. We were partnered for six years and with her assistance I achieved so much. I transitioned to independent living in my own apartment. I built skills and learned techniques to make my way in this world. We grew as a team. As I learned to metaphorically crawl, walk, and run she was right there with me. I was given the confidence to take risks because I knew I was never alone.
The last summer before her death was the absolute best. Together we ventured further into the world than ever before. My mindset transitioned from being 'in treatment' to 'living life.' I was excited to see success from my years of treatment as I began to take the bus and make small ventures into the world with only Hope to assist me. I planned outings just to 'practice.' People would ask when I reported back if I 'had fun.' Umm, NO. Fun would not be the word I would use. These trips made my head feel like it would explode. Accomplished…definitely!
As an artist I was thriving. I was enjoying my classes, the days at the art studio, and had a professional development plan in the works. I  courageously introduced myself to the world by submitting to shows, exhibiting in galleries, and even attending my own openings. My goal became to 'Be the best ME I can be'… living a fulfilled life in spite of my challenges, and in spite of others judgements. Hope was a great example –she never had any problems just being HOPE!
Then wham… within two weeks my perfectly ordered existence was demolished. Honestly, I didn't even know the extent at which she helped me until she was gone. It felt like I'd lost a limb and my connection to this world. My family, best friend, constant companion, and my independence all suddenly gone.
The past year has been a game of limbo. Dealing with the grief. Trying to find new ways to make it in this world without her assistance. Then came the applications, waiting, rejections, disappointments, fundraising, and everything else involved in finding a new partner. A year later all bets are on a puppy. Yes, he shows promise, but there are so many things that could go wrong; it's frightening.
This is one of the unfortunate realities of choosing a service dog lifestyle. At some point we all face the loss of our Partner. Unlike most medical devices, they can not be cloned perfectly duplicated in mind and spirit, nor would I ever want my girl to be. Sometimes I do wonder if it is worth it to stake so much on a mortal being with a relatively short life expectancy. The pain and setbacks when a partner dies is intense.
At the same time, I know Hope made me a better person and gave me a chance at a a much better life. With her, I knew 'Achievement'. Where I go from here is a great unknown, but at least I now know the potential my life holds.
Hope begins in the dark, the stubborn hope that if you just show up and try to do the right thing, the dawn will come. You wait and watch and work: you don't give up.                 ~Anne Lamott
Year round, many corporations encourage employees to give back to the community and the world. Many match employee donations, have drives, host events, and do what they can as a team to help those in need.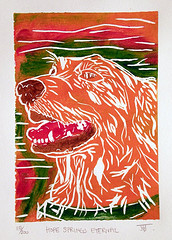 A number of corporations designated the entire month of October to raising awareness, encouraging volunteerism and charitable giving. These campaigns, headed by the United Way, foster an atmosphere of generosity, providing opportunities to give not just to the United Way, but smaller niche charities of choice.
One of the large participants of the October campaign is Microsoft Corporation. Due to their strong belief in giving back; not only financial donations are matched year round, but also in-kind, stock, and volunteer hours.
Karl's Kids Program, Inc. recently went through Microsoft Matching Gift Program's authorization process and is now listed in their nonprofit database, a convenient way for Microsoft employees to report donations for matching. As Karl's Kids manages my fundraiser, this includes contributions to my fundraiser. I ask anyone interested in donating to look into their own corporation's matching gift program, so you can watch your donations go even further!
A long term friend of mine, Mary Shevlin, graciously volunteered to assist with my fundraising by becoming my liaison for Microsoft, where she is employed. She currently has several copies of my 'Hope Print' in her office for in-person viewing and purchase. Any Microsoft employees with further interest or questions should feel free to contact Mary directly via email at marysh @microsoft.com.
I am very thankful to Mary for her dedication to me and my journey to find a new service dog. Knowing I am not alone in this process means the world to me. If anyone else feels compelled to be of assistance promoting and facilitating my campaign in your team or place of work, please contact me. Any assistance in spreading the word is much appreciated!
On the topic of fundraising I believe about $2000 of my $7500 goal has been raised! It might be more with donor matching! Thank you so much to all who have helped me make it so far!!! Your support and encouragement have been and continue to be huge blessing through this very hard year following the loss of my partner.
Along with the campaign, I am seeking other opportunities to promote my fundraiser. Some future ideas I have include:
'Meet the Puppy' house party (needing a host)
A yarn-inspired raffle for my Ravelry friends (needing donated raffle items)
More hand-crafted items in my shop for the holiday season.
More venues to display my work (please, please contact me if you spot an 'art wall' at a coffee shop).
Celebrating this month of giving I have added more prints to my Online Store for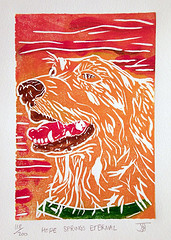 further selection. Please pass the word!
Also note: I've created both a Facebook Page and Twitter Feed dedicated to this journey. If you use these mediums I encourage you to join (like, follow, or whatever they are now calling it…) for convenient updates as I continue this journey.
Many thanks for making my dream a reality.
~Forever with Hope, Jessica

Sorry I have been neglecting blogging here. I had Domino for a whole week and life caught up! To make this simple I think I will do a day by day recap. I can expand on different aspects later in further posts. He is a cute little rapidly growing big bugger.
MY WEEK IN HIGHLIGHTS: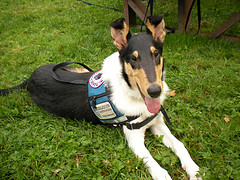 MONDAY: Cat meets puppy all over again. Much hissing. Domino just doesn't understand why this cat doesn't want to play! The office cat is his best friend! I went for a night walk with him and he did great–shadows, rain, cars, darkness, odd sounds… the world is totally different at night! He is also much improved in the walking department…oh, he is a Stair-Master!!! Such a good boy!
TUESDAY: I'm exhausted because the cat spent the entire night harassing the crated puppy. When she isn't harassing him she is harassing me for her due attention. Today he learned to ride at my feet in the car, walked in a new neighborhood and met my therapist. He mastered some Mega Scary Stairs. Domino is having a rotten time with teething and found the fringed wool rug fascinating in her office. Later I took him to the field behind my apartment and worked with him on a long line. Played fetch, recalls, downs, sits, stays, heeling, food zen… Much fun ending with one exhausted puppy! So exhausted he slept through all the hissing and objections to his presence.
WEDNESDAY: Big outing today. I had to go to a doctor's appointment so scheduled a volunteer, Judy, to go with us. She took Domino for a walk during my half hour appointment. After we went to Chocolati in Wallingford, got the requisite hot chocolate and then sat outside watching the world go by for a good hour. This is a very active area–people, cars, buses, bikes, doors opening and closing. It was fascinating to the 4 1/2 month old puppy, and he would settle down with me. I worked on attention, sit, down…mostly just acclimating to the atmosphere. He did bark at the toddler pushing the toy popcorn vacuum down the street. The mother was amazing, took the toy immediately, and asked if they can come say 'hi' and give him a treat. The toddler was thrilled with his 'kiss' and it was good for him to meet the youngster. He does have to work on sitting while being greeted. At least he isn't a jumper! Later I did some more work on the long line out back. It's a blast!
THURSDAY: Today we went back to the field and did some work/play. We also worked on attention. This morning he really wanted to play with the other dogs and has now started barking for attention and play. He's a Big Bad Collie Boy, you know. He's used to his regular play times with the other dogs at Brigadoon, and he is restless. He is also teething and just plain having a rotten time. I introduced him to teeth brushing and he finds that quite soothing. On our walk, I brought out the big guns to combat the barking: Natural Balance Treat Roll. I really focused on an attention, treating him every time he made eye contact either offering the behavior himself or when asked (I use the word 'look'…I should probably make sure it is the same Brigadoon uses). The goal is to catch any barking or distracted behavior before it happens and reward the positive behavior offered immediately. Those NB Bites were YUMMY–far better than barking!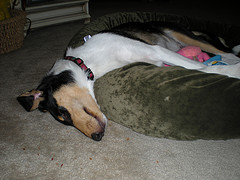 I think I will end this post here and continue the week later. That way it will actually get posted instead of lost in my overwhelming brain! I have more news on the fundraising front and a number of other articles started so I just need to get back to blogging.
Please visit the Brigadoon website for more information.






Hit Counter provided by
seo packages